Wednesday, May 19, 2010
Sheares Exposure Camp!
Hey Acers,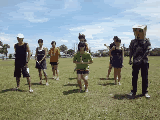 Where the forces unite


Sheares Exposure Camp will be held this monday from 24th May till 27th May. Here is a rough guideline of what's happening these 3 days and do come down and join us. A great chance to interact with the potential freshies!

24th May Day 1:
Afternoon - Station games @Sheares Hall
Afternoon - Mass Dance @MPSH
Night - Lifeline! @Sheares Hall
Night - Secret Pal @MPSH

25th May Day 2:
Morning - Sentosa Games @ sentosa
Afternoon - "Food Hunt"
Night - Secret Pal @MPSH

26th May Day 3
Morning - War games @West Coast Park
Evening - SP Revelation @Munchie Monkey
Night - Finale Night @MPSH

27th May Day 4
Morning - Prize presentation/ Video presentation Talks @MPSH
Afternoon - Break Camp @MPSH

If you want to come down and clarify with us the location, do contact
Alden 93633907
KarXieu 93288915

SEE YOU ALL THERE!






al roared at 01:17.